Review unit provided by Goojodoq
This is the Goojodoq 65-key wireless mechanical keyboard that supports Bluetooth, 2.4Ghz and wired connection for MacOS and Windows.
The product page on Shopee SG currently list the price as SGD 67 with a free gift: either a Bluetooth speaker or wireless mouse.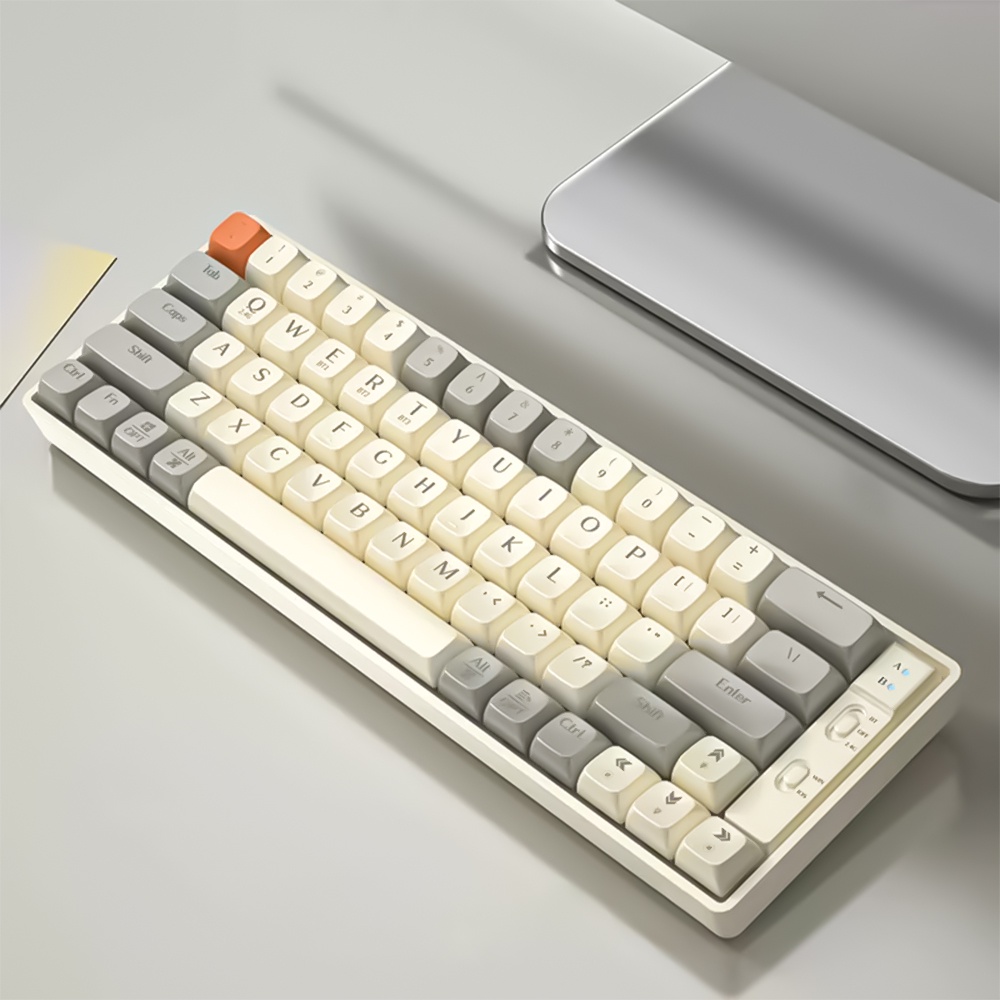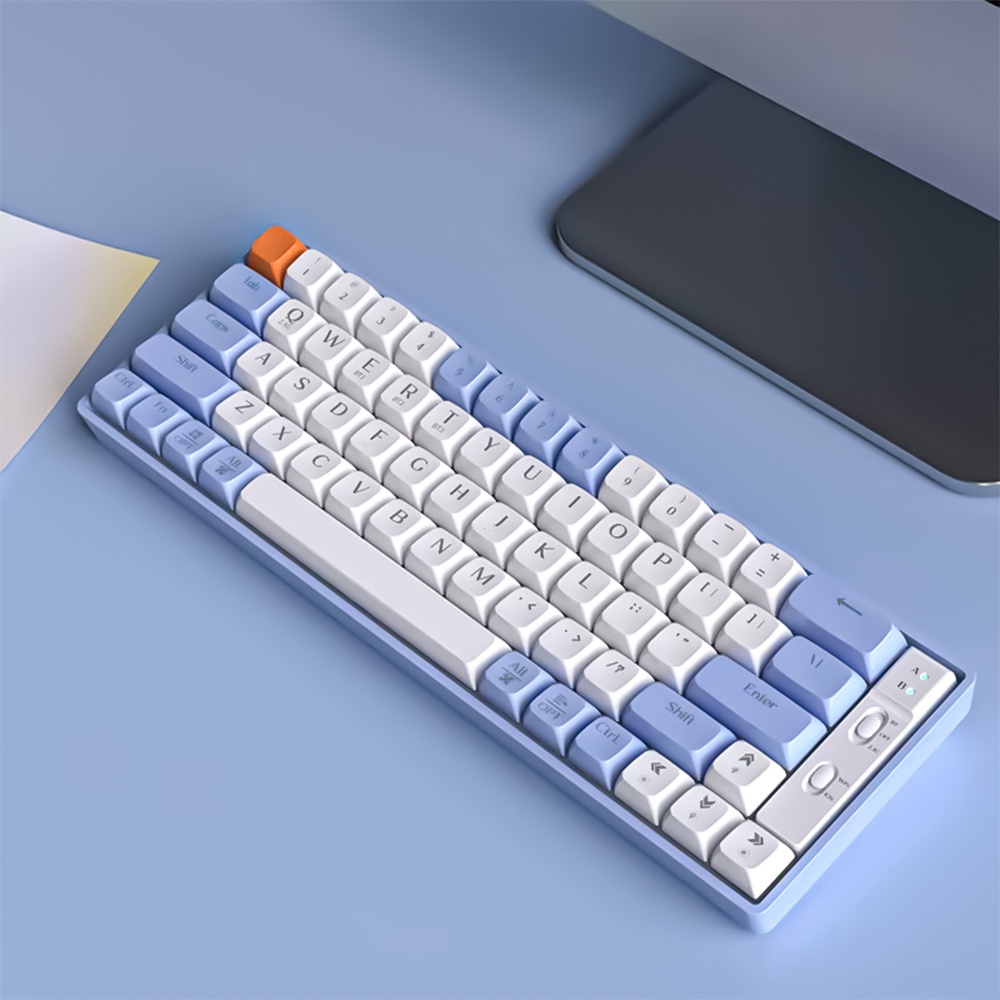 The keyboard is available in either White Blue or Grey Coffee colour.
Design of this keyboard looks good. Build quality seems solid enough.

On the bottom, there's a little slot for the USB-A wireless receiver. The four rubber feet has good grip on the table. This keyboard is a white label product and from the sticker on the back, it seems like the original model is Langtu GK65.

This keyboard about the same height as other mechanical keyboards I've tested, and it's much taller than low profile keyboards of course. There's no height adjustment, no fold-out feet.
Layout

This is a 65-key layout. You can zoom in the photo above for a larger view.
There's no function row, no Page Up, Page Down, Home, End and Delete.
The top left button is Escape.
These are the keyboard shorts needed to get certain keys
F1 to F12: Fn + number
` : Fn + `
~ : Fn + Shift + `
Page Up: Fn + L
Page Down: Fn + M
Home: Fn + K
End: Fn + N
Keyboard light on/off: Fn + Backspace
Key brightness: Fn + Up/Down arrow
Switch lighting effects: Fn + [
Adjust lighting effect speed: Fn + Left/Right arrow
Screenshot: Fn + U
2.4Ghz connection: Fn + Q
Bluetooth connection: Fn + E/R/T (each button for a separate device)
When using Mac keyboard layout, the CMD button on the right side does not work. It is not possible to use Fn + Backspace to get the Delete function.
Lighting

There are 17 lighting effects to choose from. You can switch easier between them with the keyboard shortcut Fn + [. If you don't need the lights, you can turn them off with Fn + Backspace.
The key caps are not transparent so the light does not shine through.
Battery life is just 10 hours
Typing experience

Typing experience is good. The keys have good travel and feedback.
Size of the keyboard is just right and most keys are at the correct location so I don't really have many typos or hit the wrong keys after using the keyboard for a few days.
The typing sound is much louder than I expected, and also louder than other mechanical keyboards I've tested. This is not a keyboard for those who prefer quiet working environment.
The keys and switches are said to be replaceable or hot swappable. I did not replace any keys to test that though.
Conclusion
This is a nice looking keyboard with good typing experience. It has Bluetooth and 2.4Ghz and can be paired to 3 devices. 2.4Ghz connection is instant. Bluetooth connection takes a few seconds which is longer compared to other keyboards I've tested.
Downsides would be the rather loud typing sound, and the right side CMD button not working with MacOS.
The pricing of SGD 67 is quite reasonable.
Availability
If you're interested to get this keyboard, you can find it on Shopee SG.