Book Review: The Simpsons Handbook (Secret Tips from the Pros)
26-08-2010, 05:29 AM
Cheese
Junior Member


Posts: 1
Joined: Aug 2010
Book Review: The Simpsons Handbook (Secret Tips from the Pros)
The Simpsons Handbook: Secret Tips from the Pros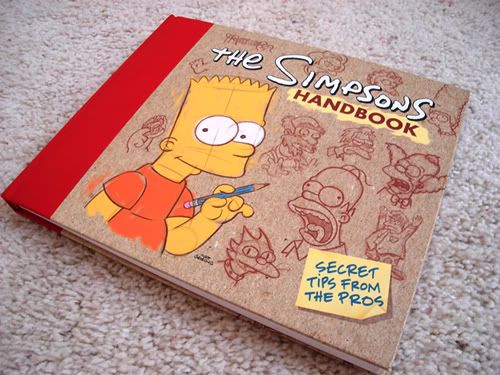 128 page Hardcover
(with a very nice cloth edge along the binding)
Publisher:
Harper Paperbacks (June 12, 2007)
ISBN:
978-0061231292
Dimensions:
11.1 x 9.1 x 0.9 inches @ 2.5 lbs
Cover Price:
$39.95 USD
Online price range:
$7.06-$39.95 USD
Summary
If there is one thing that makes The Simpsons such a successful show, it must be its cast of lovable characters. They have become household names and their personalities echo through those of our own. After much anticipation, audiences around the world finally get a glimpse at the artistic designs and details that make this amazing show come to life.

Review:
This book is really one to treasure. It is well crafted inside and out and well worth the money even at its cover price. Beyond its lovely hardcover, we find page after page of model sheets for just about everything in the show. The contents are arranged as follows:
The Family
Supporting Cast
Costume Changes
Backgrounds and Props
In each of these chapters we find detailed "how-to" styled model sheets for characters and objects that are the foundation of the animation. We get everything from basic form construction, design details, expression sheets, action poses, perspective views, and drawing tips unique to each one.
For each character we are shown:
-A final drawing
-Step by step construction of the head and face
-Step by step construction of the whole body
-Nit-picky details and notes that will help expand upon the likeness of each character
-Expression Sheet
That is a ton of stuff! Now apply all that to a total of 31 characters! Some of them are even blessed with fold out pages revealing even more design secrets and quirky drawing notes (see photo #6).
The section of The Simpsons Family is even more amazing. With everything included from above to an even greater degree, we also get a page dedicated to poses of their hands, and a nice acetate page with the final drawing, that folds back to reveal the construction lines and notes underneath (see photo #1). I love interactive books!
The final sections include sketches of the backgrounds and props from the show. While these are not as intricate as each character design, we still get to see the underlying drawing behind each design and understand how they are drawn.
Unlike other "art of books", this is not intended to show off beautiful finished pieces, but rather display how characters are constructed so that we could even animate them ourselves. Blue construction lines are left in each drawing so that we me see the way forms are sculpted and connected to give these 2d characters and sense of a third dimension. The little notes detailing design decisions and meticulous details are filled with entertaining anecdotes, as if the artists and writers themselves were speaking to you.

Conclusion:
Whether you love The Simpsons to death, love to draw, or just love looking at art, this book is a must have in your collection. Rarely are we blessed with such a detailed and intense behind the scenes look at an animation production. If you happen to be an artist of any age or skill level, this book can really help improve your technique and understanding of how to draw and solidly construct objects. Its like watching The Simpsons with X-ray vision! You will love the drawings inside, the little side notes and details and the amazing production quality of this book. This is hands down one of the favorites in my collection and will be one of yours too!
Buy it here:
Amazon (
US
|
CA
|
UK
|
FR
|
DE
|
JP
) |
Bookdepository.com
|
Bookdepository.co.uk
Ebay
Half.com