Book review: BLK: Huke Selected Works
06-03-2012, 09:59 AM
Nameless
Junior Member


Posts: 18
Joined: Jun 2010
Book review: BLK: Huke Selected Works
Binding: hardcover
Pages: 237
Print: Full colour
Size: A4 size approximate
Content type: manga, mech & fantasy style illustration
Content genre: fantasy, game & various machine
Publication: 2012
ISBN: 4-582191-966687
Language(s): Japanese
Recommended readers: general interest in manga style or fantasy style illustration & Huke fans
Can be purchased at:

amazon.jp(limited edition)
|
amazon.jp(regular edition)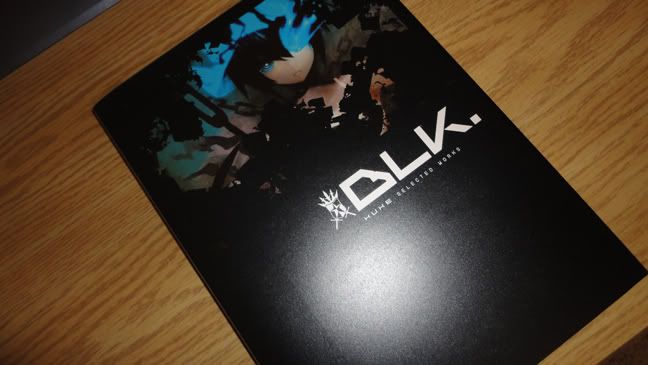 BLK is an artbook centered around the works of the Japanese illustrator Huke, who recently within the past two years has acquired more attention as the creator behind Black Rock Shooter and the designer for the visual novel Steins Gate(now turned anime). Although smaller fanbooks have been available at previous Comikets, BLK is the first official artbook released by Huke and is available in a Limited Edition and a Regular Edition.
It is first important to note that the book contained within the Limited and Regular editions are both exactly the same. The limited edition book is not signed, numbered or specially given any form of ID. The only difference between the Limited Edition comes bundled with a Black Rock Shooter(Beast) figma(posable figure) produced by Good Smile Company. It also includes a code for redeemining a special avatar if you play the Puchitto Rock Shooter game.
In terms of the book in itself, the construction is extremely well made. It is hardcover and perfect bound but the binding is very tight, about A4 size. While sturdy this has a tendency to make spread illustrations a little more difficult to view. The entire cover is black and comes in a matte dustjacket that has a very slight texture and sheen to it very similar to the sheen on white PSPs. The cover is printed on both the front and back, but if you open according to page numbers then the book reads from left to right.
The illustrations are printed full color on a very thick, heavyweight matte paper. It begins with a couple cover pages and an introduction of a few sentances with a category overview then goes straight to the art. The illustrations contained within can be divided into three categories: Black Rock Shooter, Steins Gate & Misc. The vast majority of the book are dedicated to illustrations pertaining to the first two categories.
The layout of the book itself has actually very well planned. There are occasionally a couple pages that are simply all black that appears to be used as a form of divider between content categories. These black pages are also imprinted with a slightly darker watermark of some character design crests, most notably the crest used on the cover of the book beside the 'BLK' text.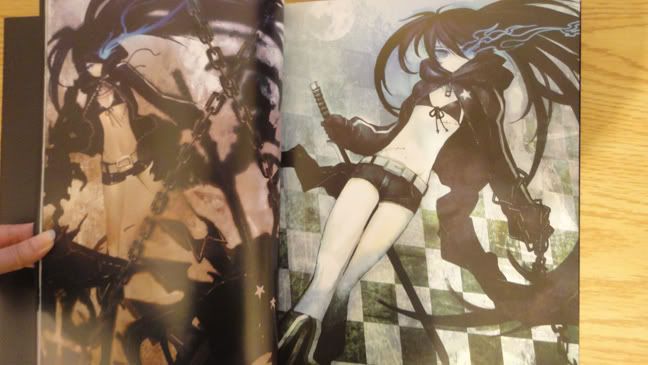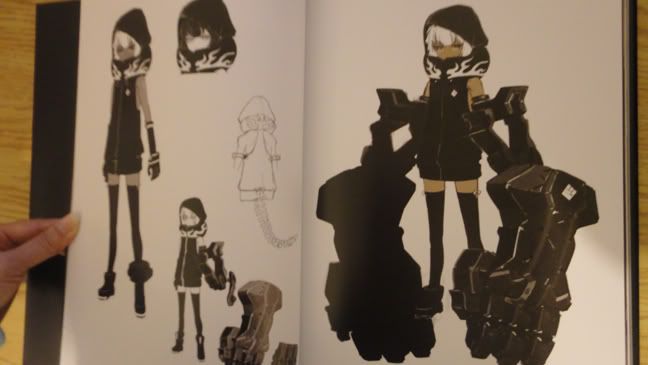 The Black Rock Shooter art contains artwork and illustrations that are related to Huke's BRS fantasy world. Some of the artwork my be familiar to those who collect doujinshi or other books released at previous Comikets, but there are also a number of illustrations that are were used in promotional media such as magazines or other publications. There is actually a fair number of illustrations that have not previously been released, publisized, or otherwords hacked on the web for all its worth. Large size illustration stills are also included for the music video that Huke had self illustrated and animated.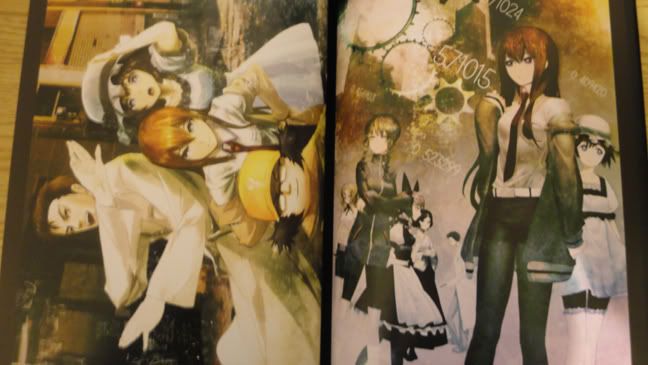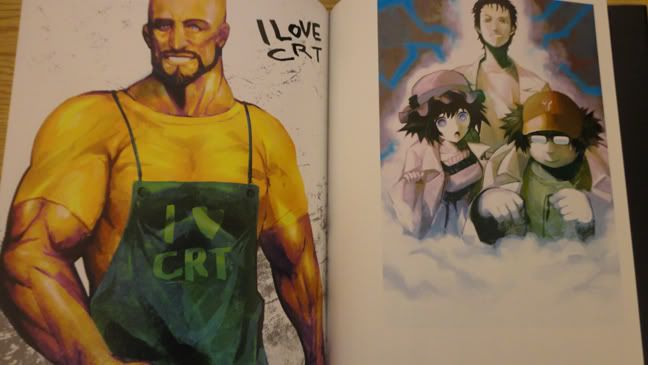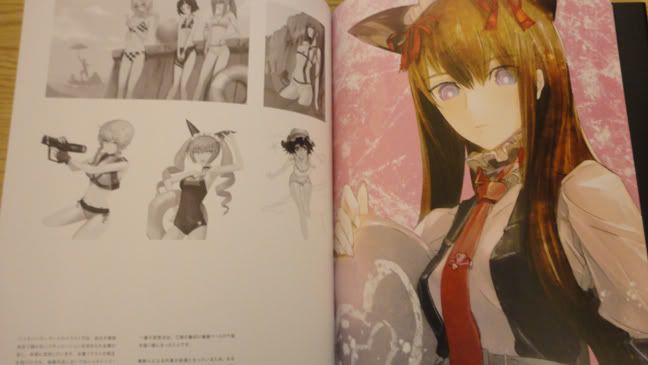 The next portion of the book contains illustrations Huke had done for Steins Gate. A number of the illustrations featured were used for promotional media of not only the visual novel but also the DVD and magazines. These are all shown in full size and without any additional text, and also appears to contain some artwork made exclusively for the book before its publication.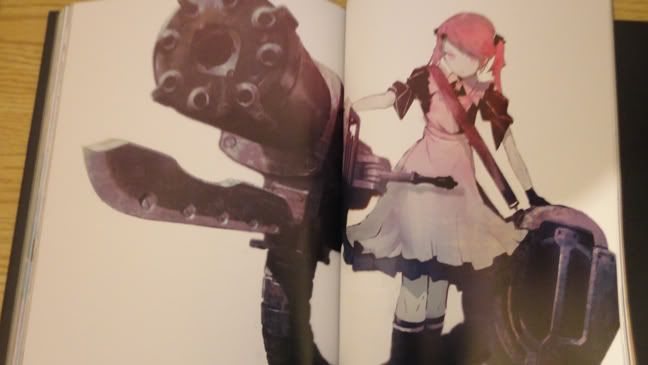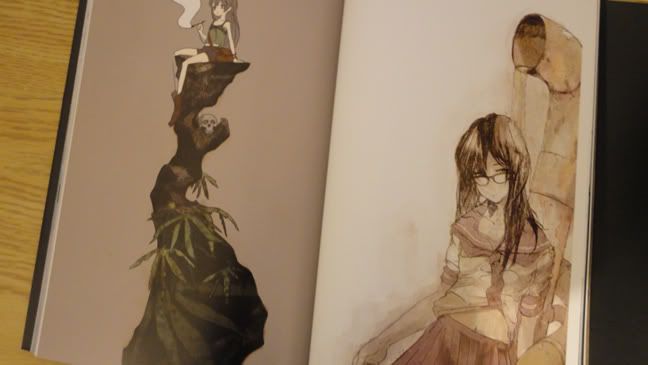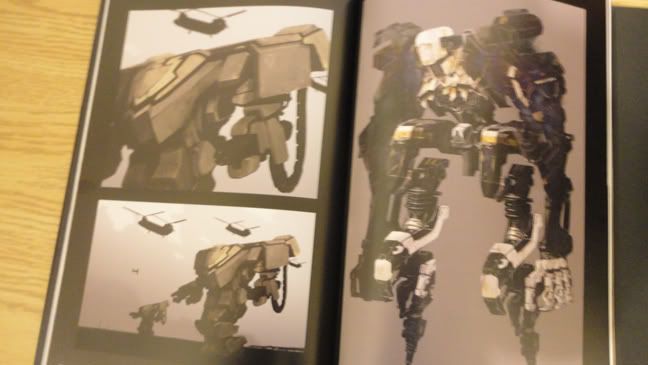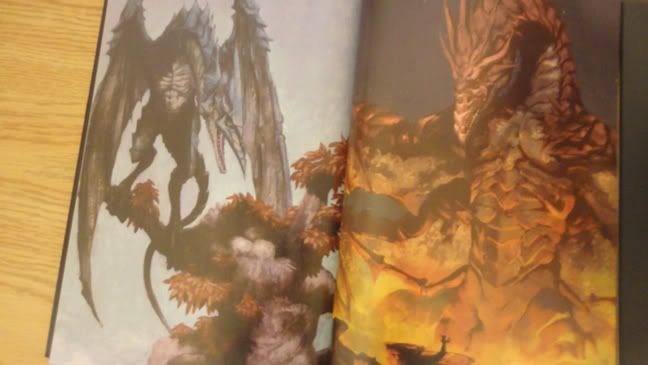 The last portion of the book contains misc illustrations that detail and show Huke's skills in a variety of other styles as well. These are random illustrations, generally centered around a sci-fi or fantasy type theme featuring anything from fantasical figures, to tanks and machinery. The illustrations in this section also demonstrate Huke's flexibility as an artist to adapt to a wide range of different styles from manga style artwork to more refined, realistic and pop art.
One thing to note about the art displayed in this book is that despite them being almost all digitally painted, all of the art withing BLK retain a grainy, textured look very similar to a mixed media of watercolour and conte. Dark, heavy textures and a limited colour palette are a part of Huke's signature style as well as a mix of very thick and very thin brushstrokes. The style of art generally mixes a lot of what is considered contemporary anime or manga style that features very cute female figures(I believe a lot of people refer to this as "moe" these days), yet at the same time juxtaposes it with very dark colours and rough textures that usually are not considered at all cute or feminine, so it's rather difficult to accurately categorize it.
Overall BLK can be thought of more of a compiliation of illustrations for Black Rock Shooter and Steins Gate, which would be more appreciated by fans of either or both series, or fans of Huke's artistic style. The two former sections heavily dominate the majority of the book, despite being a generic Huke artbook. I would actually not recommend this book to the average anime or manga fan as the overall style contained deviates so heavily from what is popularly considered contemporary mainstream manga or anime these days, unless you are looking solely at the stylistic figure alone. However I do highly recommend this for people who are more interested in darker themed art in general, or even those who simply enjoy textures as Huke's art employs a wonderful variety of them in different methods. Considering the book's well made construction, this I would probably also recommend this to folks who just enjoy the beauty of a good book.
In general, I personally enjoy Huke's art for the style and use of colours and textures that are so reminiscent of traditional media, but do find that BLK could do well to have more pieces in the misc category. Huke appears to be quite skilled in a number of disciplines, and his work with realism and machinery, and fantasy themes are also incredible, but there are few pieces that show off his proficiency in this area. More original pieces not related to the two dominant series is the only other addition I would have really liked to see. The book in of itself is extremely well made and clearly very thoughtfully planned out. At a retail listing of 3200-4900 yen this is actually quite a good book at an excellent price.